We proudly introduce "Simdle," the new umbrella brand of Losch Digital Lab's portfolio. Simdle bridges the vision of simplifying how we move in the future with Losch Luxembourg's excellence in the automotive sector.
In 2018, Losch Digital Lab emerged in Porto as an automotive software pioneer to ensure that its parent company stays ahead of the game in view of unprecedented transformations in the automotive industry, marked by new mobility concepts, digitalized workflows, and modern mobile platforms. Losch Digital Lab's mission is to look ahead of current operations as the preferred partner at the transition to the future of automotive, mobility, and beyond, providing and developing state-of-the-art solutions and outstanding services.

Simdle: A Unified Vision
Simdle is the logical continuation of Losch Digital Lab's journey on our mission to be ready for the future. This new brand responds to the need to provide a coherent and unified vision of who we are and the transformative digital solutions we are working on: simplify how we move.
Simdle embraces the era of seamless mobility: In a fast-paced world where mobility is no longer bound by a single mode of transport, the Simdle software suites arise as the solution to bridge the gap between traditional car ownership and emerging trends in mobility. Today's consumers seek hassle-free and efficient travel experiences that incorporate a blend of good working and reliable mobility options. Simdle facilitates such a future through the power of software: end-to-end, from customer-facing mobility booking apps for passengers all the way to solutions managing vehicle acquisition and maintenance for operating mobility service providers. Simdle aspires to bridge new mobility trends with Losch Luxembourg's core expertise of a solid network of distribution and management of vehicles.
Two new product suites
Today, Simdle is being launched with two distinct software suites, "Simdle Mobility" and "Simdle Automotive". Each suite carries our unique vision and addresses specific industry needs while seeking to maximize the synergies between them.
Simdle Mobility: Making sure no vehicle runs emptier than it should
Simdle Mobility's software suite is the evolution of our previous brand, Savvy Mobility, and continues its mission to facilitate the pooling and sharing of mobility.
Designed for public authorities and transport operators, Simdle Mobility is an on-demand mobility solution and consists of a rider app, a driver app, and a powerful backend interface that is currently in use in more than 5 countries, transporting thousands of passengers.
Simdle Mobility allows riders to book a trip on an App like a taxi and be pooled with other passengers heading in the same direction as if it was a bus. The difference is that the vehicle has no fixed bus line or schedule – the tour depends on passengers' requests and is determined on the spot by a powerful pooling algorithm.
Simdle Mobility enables cities, transport operators, and authorities to manage flexible transport efficiently and tailor the algorithm to their needs. By dispatching and pooling pre-booked and real-time requests automatically, it is a game-changer in optimizing transportation resources across diverse use cases, including rural areas, school transportation, accessible mobility, and public transport taxis. Simdle Mobility is an indispensable tool to increase the attractiveness of shared transport and make it as available and "on demand" as a personal car.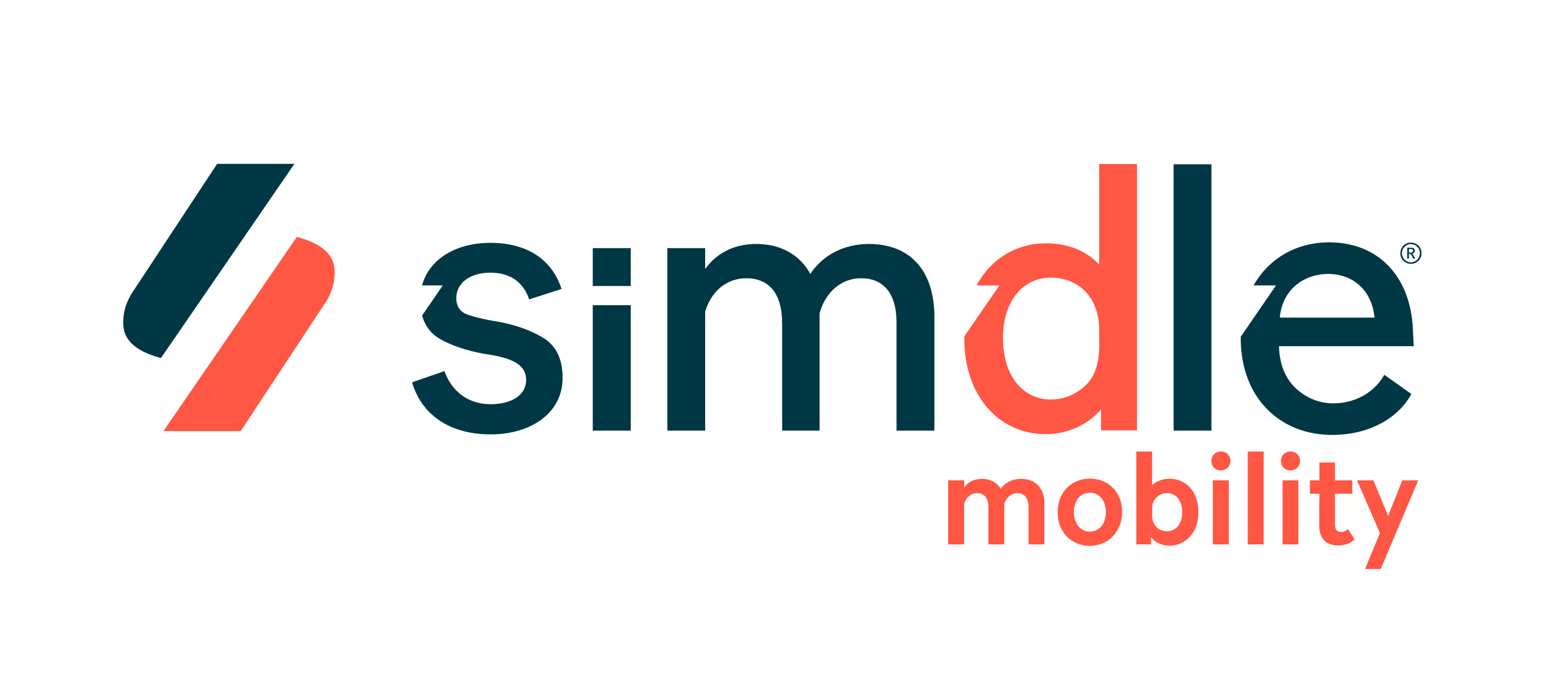 Simdle: The umbrella that unites
The decision to unite Simdle Mobility and Simdle Automotive under the umbrella brand Simdle is driven by our commitment to recognition, synergy, and originality. By consolidating these suites, we ensure a consistent brand presence and reinforce our position as pioneers in the future of mobility.
As we launch the brand Simdle, we invite you to embrace the future of mobility and automotive excellence. Together, we are driving dreams of tomorrow.